I collect postcards for the images on their fronts. Most people do. But every so often, the message penned on the back is far more interesting.
Take this linen postcard of the George Washington Bridge. Here's the front.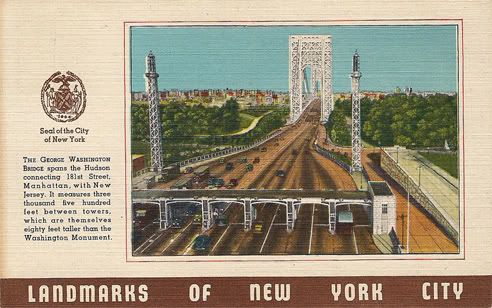 Nothing too exciting. But flip it over and read the back, postmarked Oct 21, 1943.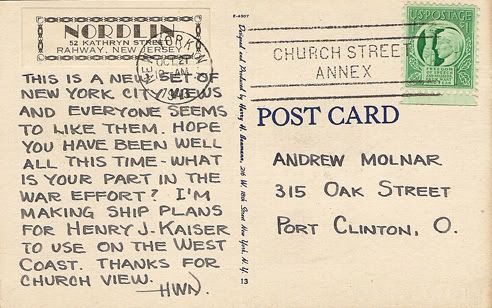 This is a new set of New York City views and everyone seems to like them. Hope you have been well. What is your part in the war effort? I'm making ship plans for Henry J. Kaiser to use on the West Coast. Thanks for church view. – HWN
Henry J. Kaiser owned seven major shipyards along the American west coast. Together, these yards made more ships for the US war effort than any other company, including many of the famous Liberty ships.
And our postcard writer contributed plans to those yards. Pretty cool, huh?
Technorati Tags: vintage postcard, George Washington Bridge, New York City views, WWII, World War Two, Henry J. Kaiser, draftsman, American war effort, shipbuilding, 1943
Comments