Product: 7-Up
Date: 1950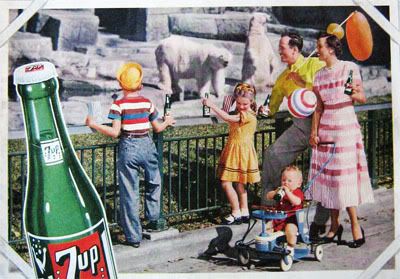 It's 1950. It's Middle America. Here we have Mom (in her high heels and pearls), Dad, Freddie, Kay, and little brother on a swell outing to the zoo. Look at the polar bears! Look at the balloons!
Now let's turn our attention to little brother, the cute baby in the stroller. How old is he? Eighteen months? Maybe two, tops? He's having a good time at the zoo, as well. What's that he's drinking? A bottle of nourishing mama's milk? A cup of apple juice?
No, sir! It's cheerful, clean-tasting 7-Up. Just because you're still in diapers doesn't mean you can't enjoy your very own glass bottle of fizzy sugar water. In fact, it's good for you. It's practically medicine. The ad says so.
Seven-Up is so pure — so good — so completely wholesome that even the very youngest can "fresh up" just as often as they want…and with as much as they want.
God bless America.
Technorati Tags: vintage advertising, 7-Up, soda ad, Middle America, post-war prosperity, nuclear family, polar bear
Comments