Product: Foot's Chair-Couch
Date: 1911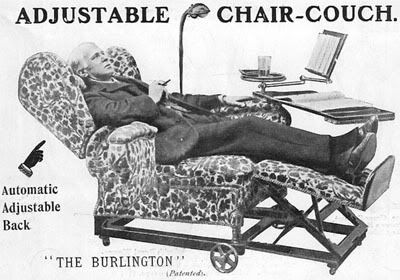 La-Z-Boy ain't got nothing on this bad boy. In fact, years before La-Z-Boy came on the scene, there was already a deluxe recliner called the Burlington. Check it out:
The back goes up and down at the press of a button
The arms swing out for make getting in and out easy
The leg rest goes up and down so you can lounge at whatever angle you please. Don't want a foot rest? It slides away.
It comes with four attachments: a table, a tray to hold your book upright, a side tray for your drinkie-drinks, and a light. All adjustable, all removable.
As if all that weren't enough, the upholstery is also "exceptionally soft and deep" with spring elastic edges. This thing's so comfortable, it's not even sure if it's a chair or a couch — it's a chair-couch.
Yet where is this company today? A Google search on "Foot's chair-couch" and several variants yields nothing, not even historical archives or collector groups. The La-Z-Boy people claim to have created "the first chair of its kind" when they released their upholstered recliner in 1929. I think not. But what's that they say about the winners writing history? Foot's is now just a Footnote.
Technorati Tags: antique advertising, reclining chair, La-Z-Boy, Foot's chair-couch, antique furniture
Comments