I frequently buy up box lots at auction and it's not until later that I actually know what I have. It's always such a thrill digging down into a pile and not knowing what I'll find. Yeah, there's usually a lot of junk that's not worth keeping, but almost always I'll uncover some interesting treasure too.
Take this photo.
It shows the interior of a small wooden church. Apart from the caption, St. John the Baptist, there's no other identifying information. I'm guessing it was taken between 1880 and 1900.
It was tucked into a big lot of photos that I bought at an estate sale in Nova Scotia a few years ago. I don't know what town it's from, but it's a pretty good guess that it's in Nova Scotia somewhere. I tried some searches on the name of the church, digging especially around places close to the town I bought it. Nothing turned up.
I just love this photo. I think it's the incredible detail: the wood panelling, the tiny stove with the long pipe, the chandelier, the stained glass window.
Who went to church here? Why did they take this picture of the inside of their church? We'll never know. But at least we get to admire it all these years later.
Technorati Tags: antique photograph, estate sale, country church, old church, wooden church, St. John the Baptist, Nova Scotia
Product: Oh Henry! & Oh Henry! Recipe Book
Date: 1926
"Why, that's candy!"
Yes. Yes indeed. But that's no reason you can't put it in a salad with fruit. And mayonnaise. And lettuce. Oh yes.
Miss Daisy P. Rudd of Bennington, Vermont, says that it makes one of the most charming salads she has ever served. Oh yes.
But wait! There are actually thousands of recipes you can make with Oh Henry. Luckily for homemakers everywhere, the Oh Henry people whittled it down to the 60 best ones and put them in a recipe book: Sixty Ways to Serve Famous Candy.
So there you have it. Fruit salad thingamabob with Oh Henry. There's probably going to be a run on the stores. You better "phone your grocer, drug or candy store for 6 or 8 bars of Oh Henry … now!"
Technorati Tags: Oh Henry!, candy bar, chocolate bar, vintage advertising, recipe booklet
Product: Admiral Radio-Phonographs
Date: 1948
These smart new radio phonographs CAN'T GO OUT OF DATE! Right? Am I right? Smart never goes out of date. And when television comes to town, you'll be ready. In the meantime, you've got a nice spot for that 16-volume encyclopedia bound in white leatherette. Everyone knows you'll always need that.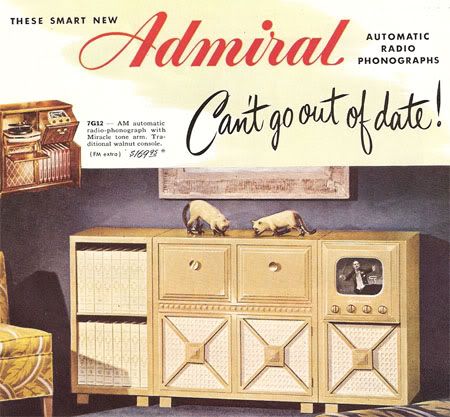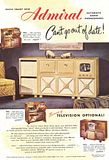 Click to enlarge.
Technorati Tags: vintage advertising, false promises, radio-phonograph, early television, old TV set
Product: Carry Phone
Date: 1967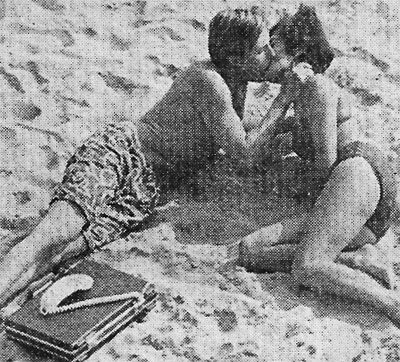 You're out on a deserted beach with your favorite girl, nobody around for miles, nothing but sand, sun and sea — and suddenly your phone rings!
Groovy, man. It's 1967 and the Carry Phone is the latest in portable technology. Weighing "only" 10 pounds and priced at just $3,000, the Carry Phone was predicted to "become as popular as the transistor radio."
The old science magazines from the 1950s and '60s were pretty far out with some of their predictions, but this article from a November 1967 Science & Mechanics was right on the money.
Of course, the phone had to get a little smaller. And the price had to come down a bit — that $3,000 price tag in today's dollars would be a hefty $19,288.14.
But making a phone call from an airplane? Or while walking down the street? Yeah dude, I can dig it.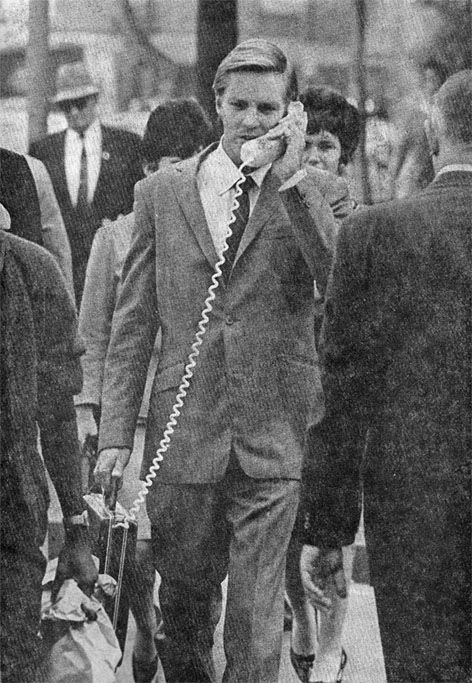 Technorati Tags: Carry Phone, early mobile phone, portable phone, technology predictions, Science & Mechanics
Product: various
Date: 1913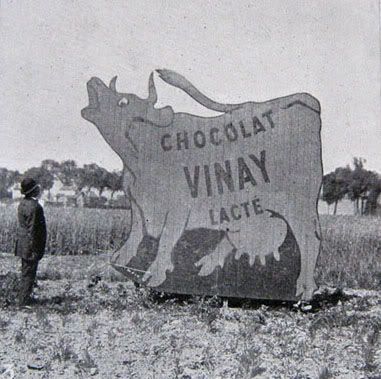 Billboards cluttering up the highway. Stories-tall advertising destroying the beauty of the countryside. It's a modern problem, born of the car culture that rose to prominence in 1950s America.
That's all true, at least in North America. But billboards — and vocal opposition to their intrusion on a city or country view — have been around much longer than that. A photo essay page from a 1913 London Illustrated News shows half a dozen ad boards from around France.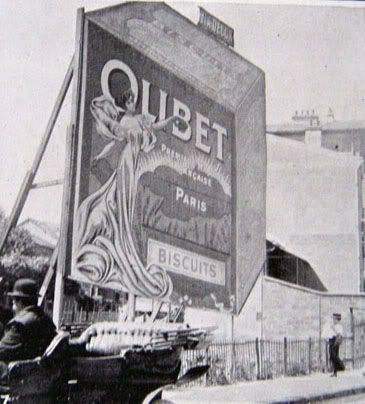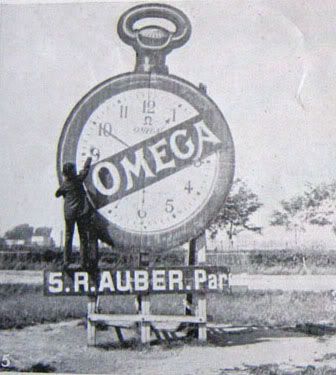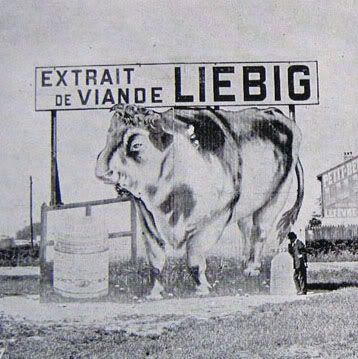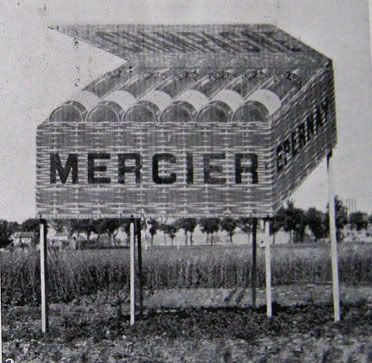 The central image of the photo essay is a cartoonist's rendering of the famous Angelus by Millet, as the cartoonist envisioned it would have to be painted in the early 20th century.
The text with the photo essay described a new tax on advertisers that, it was hoped, would decrease the number of such "landscape advertisements."
"To the great joy of lovers of beautiful landscape, the French Government have taken a definite step in an attempt to lessen the number of advertisement-hoardings set up in the open in picturesque places, if not to abolish them, by placing upon the unsightly structures a tax…"
Technorati Tags: antique advertisements, advertising billboards, automobile history, French advertising
Product: Gayla Bobby Pins
Date: 1950
Ever wanted to look like you were headed to a fancy evening soiree when, in fact, all you were doing was playing tennis? Now you can. All it takes is…wait for it…bobby pins!
Yes, magical bobby pins can transform you from sweaty athlete to coiffed princess in seconds. Well, not just any bobby pins, mind you. Only Gayla bobby pins are the ones that will make you feel like you're wearing a ball gown and diamonds when driving that scorcher down the line. You'll have a gay-la old time.
Technorati Tags: antique advertisement, vintage advertising, funny ads, bobby pins
Product: Listerine
Date: 1962
As the lady in the diner says after Meg Ryan's famous O performance in When Harry Met Sally, "I'll have what she's having." Honestly, who knew that gargling Listerine could be such a dreamy experience?
Technorati Tags: vintage advertisement, Listerine, mouthwash, gargle
Product:The Lad's Car
Date: 1912
One look at this ad from 1912 and you've got to think that maybe the Lad's Car had a little something to do with implementing a minimum driving age.
The Lad's Car was a fully functioning, five-horsepower, gasoline-powered miniature car that could reach speeds of 20 miles per hour. To put that in perspective, the speed limit in 1912 on most streets in America would have been about 10 miles per hour.
The Lad's Car was touted as a pleasure vehicle for young boys, or working transport for kids who wanted to make some extra cash as a courier or messenger. OK, a neat idea for the time.
But imagine a bunch of 10- and 12-year-olds careening down the streets in tiny cars, mixed in with all the full-size vehicles, and you get a sense of the chaos these might have created.
The part of this ad that I truly enjoy, though, is the illustration. There's a young boy, looking oh so cool in his "wheels" (note the jaunty cap and the one hand draped casually over the steering wheel), showing off to a pretty little girl in a dress. Even in 1912, with the auto industry as we know it barely 10 years old, manufacturers were marketing cars as a way for boys to attract the attention of the opposite sex.
Technorati Tags: antique advertising, vintage ad, automobile history, children's car, miniature car
Product: Lysol Disinfectant
Date: 1931
Marketers know that few things work better than a scare tactic or two when it comes to compelling people to buy a product. Witness this 1931 ad from Lysol that uses the Bubonic Plague as its central image. The text tells you that those silly people in the Middle Ages didn't know that germs caused illness. Oh, silly dead people.
But thank goodness we live in 1931 and we know better: Germs are the cause of disease. And oh, by the way, Lysol kills germs real good.
Nowhere does it actually say that the Black Plague is a threat in the 20th century, yet the headline, the illustration, and the text combine to deliver several unspoken messages:
You can protect yourself against horrible sicknesses — the Plague, for crying out loud! The Plague! It could happen. You never know.
You can feel smart when buying this product because you know about the causes of disease, unlike those "ignorant" people of long ago.
You can feel proud when buying this product because it is thoroughly modern…and so are you.
And P.S., it's good for "feminine hygiene" too.
Technorati Tags: antique advertising, vintage ad, disinfectant, household products, Bubonic Plague, marketing
Product: Foot's Chair-Couch
Date: 1911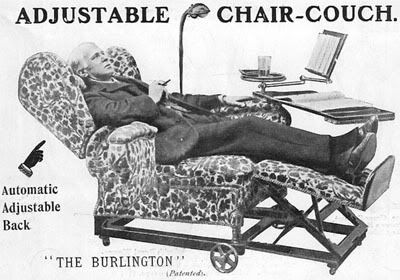 La-Z-Boy ain't got nothing on this bad boy. In fact, years before La-Z-Boy came on the scene, there was already a deluxe recliner called the Burlington. Check it out:
The back goes up and down at the press of a button
The arms swing out for make getting in and out easy
The leg rest goes up and down so you can lounge at whatever angle you please. Don't want a foot rest? It slides away.
It comes with four attachments: a table, a tray to hold your book upright, a side tray for your drinkie-drinks, and a light. All adjustable, all removable.
As if all that weren't enough, the upholstery is also "exceptionally soft and deep" with spring elastic edges. This thing's so comfortable, it's not even sure if it's a chair or a couch — it's a chair-couch.
Yet where is this company today? A Google search on "Foot's chair-couch" and several variants yields nothing, not even historical archives or collector groups. The La-Z-Boy people claim to have created "the first chair of its kind" when they released their upholstered recliner in 1929. I think not. But what's that they say about the winners writing history? Foot's is now just a Footnote.
Technorati Tags: antique advertising, reclining chair, La-Z-Boy, Foot's chair-couch, antique furniture