Product:Wizard's Purse
Date: ca 1900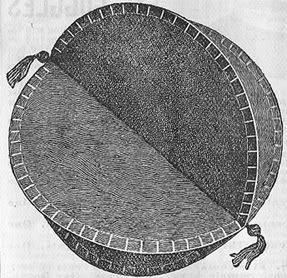 The description of this purse is an epic paragraph made entirely of awesome. I don't even know where to begin in telling you how awesome it is. I guess you should just read the whole thing for yourself.
The Wizard's Purse which has just been placed on the market is the most mysterious production of the ages, and is acknowledged by all the great professors of magic and legerdemain to be the greatest little wonder and mystery the world every produced. A marvel of Japanese skill that puzzles them all, makes ministers nearly profane, doctors neglect patients, lawyers forget cases, and affords everybody lots of sport, also furnishes never failing amusement for all, defies and baffles all, and deceives the sharpest eye. Can you open it? You may say you can, but can you? It is without a rival — delights and astonishes both old and young. For the seeker of curious and difficult puzzles, its mysterious method of manipulation invites the most careful examination and investigation. This purse can be filled with money, and, with perfect assurance of safety, you can offer anyone its contents (if not in the secret) providing they will open it without cutting, ripping, or injuring the purse in any manner. To those understanding the secret, it can be quickly and easily opened, while to the uninitiated it appears impossible. As the purse is tightly double-stitched all over by both hand and machine, nothing so tantalizing was ever offered to the public. Elegantly made of fine imported morocco leather in a variety of handsome colours, and beautifully trimmed with silk, a perfect beauty, sure to please all. Full directions accompanying each purse.
Technorati Tags: antique advertising, wizard's purse, novelty purse, ladies purse, 1900s fashion, copywriting
Comments