Lately I've been having way too much fun on a new website called What Was There. The idea is simple: take GoogleMaps street view and layer it with old photographs. In the site's own words, it's like a "virtual time machine of sorts that allows users to navigate familiar streets as they appeared in the past."
The coolest part is the fade slider, which lets you slowly fade from the old image to the new and back again. Somewhere in the middle, you get this ghostly image of people from 100 years ago walking down today's streets. It's enough to give a history buff goosebumps.
The content is entirely crowdsourced so it relies on people like you and me to scrounge through old family photo albums and antique postcard collections, and upload them to the site. Uploading, tagging and placing a photo is really easy and takes only a few minutes.
I've been adding Toronto street views ca 1900 – 1915 from my postcard collection, like this view of Massey Hall around 1905 or this peek down a tree-lined Carlton Street around 1908.
I've also been exploring the images other people have uploaded. I think this one of horse-mounted hunters riding down a muddy single-lane Bathurst Street is my favourite. The contrast with today's view is phenomenal.
What are some of your favourite street scenes?
Technorati Tags: What Was There, Toronto postcards, antique photos, photo archives, vintage postcards, street views, GoogleMaps
I collect postcards for the images on their fronts. Most people do. But every so often, the message penned on the back is far more interesting.
Take this linen postcard of the George Washington Bridge. Here's the front.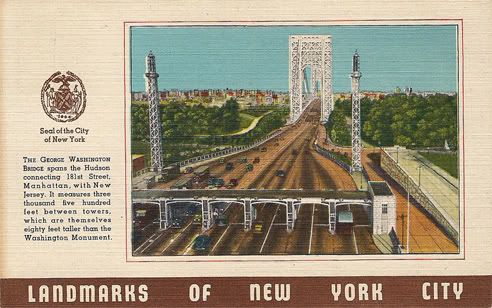 Nothing too exciting. But flip it over and read the back, postmarked Oct 21, 1943.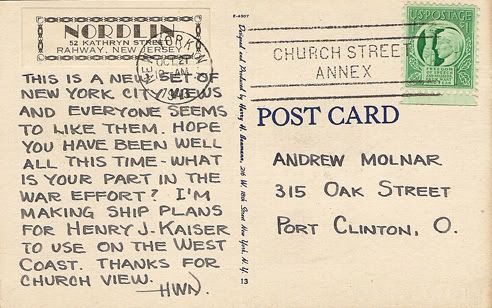 This is a new set of New York City views and everyone seems to like them. Hope you have been well. What is your part in the war effort? I'm making ship plans for Henry J. Kaiser to use on the West Coast. Thanks for church view. – HWN
Henry J. Kaiser owned seven major shipyards along the American west coast. Together, these yards made more ships for the US war effort than any other company, including many of the famous Liberty ships.
And our postcard writer contributed plans to those yards. Pretty cool, huh?
Technorati Tags: vintage postcard, George Washington Bridge, New York City views, WWII, World War Two, Henry J. Kaiser, draftsman, American war effort, shipbuilding, 1943