Product: None Such Mince Meat
Date: 1918
During World War I, None Such Mince Meat advertised its mincemeat pie filling by encouraging housewives to serve their country by baking "war pies" — pies baked without the top crust to save on flour. Such exhortations to be patriotic, make sacrifices, and save supplies were common in that era, as well as during World War II.
Can you imagine any company–or even the government–making the same kind of request today? People would be up in arms. Pardon the pun.
Post-script: I'm currently reading Jeff Rubin's book, Why Your World Is About to Get a Whole Lot Smaller, about peak oil and what it will mean to our gas guzzling culture. The price of energy is going to go up, along with the cost of food, clothing and other essentials — all of which rely on oil for production, storage and transportation. It occurred to me that we're already seeing the kind of conservation requests that None Such was putting forth in 1918, just not in support of a war effort. Instead, the requests today beseech us to do our part for the environment.
As prices for just about everything rise in the coming years, we'll see more and more information about how to save and stretch what we use. Who knows, maybe War Pie will make a comeback as Green Pie. What do you think?
Technorati Tags: vintage advertising, WWI, World War One, war-time advertising, None Such Mince Meat, mincemeat pie, war pie, rationing
Product: Oh Henry! & Oh Henry! Recipe Book
Date: 1926
"Why, that's candy!"
Yes. Yes indeed. But that's no reason you can't put it in a salad with fruit. And mayonnaise. And lettuce. Oh yes.
Miss Daisy P. Rudd of Bennington, Vermont, says that it makes one of the most charming salads she has ever served. Oh yes.
But wait! There are actually thousands of recipes you can make with Oh Henry. Luckily for homemakers everywhere, the Oh Henry people whittled it down to the 60 best ones and put them in a recipe book: Sixty Ways to Serve Famous Candy.
So there you have it. Fruit salad thingamabob with Oh Henry. There's probably going to be a run on the stores. You better "phone your grocer, drug or candy store for 6 or 8 bars of Oh Henry … now!"
Technorati Tags: Oh Henry!, candy bar, chocolate bar, vintage advertising, recipe booklet
Product: Royal Gelatin
Date: 1933
Do you ever stop to think what gelatin is made from? Many people think horse's hooves. It's a common misconception, but no, gelatin cannot be made from hooves. What it does contain is not actually any more palatable: cattle and pork bones, pig skins, and cattle hides.
These days, of course, gelatin's image is carefully groomed. There is nothing in the product or the packaging that even remotely hints at its gruesome ingredient list.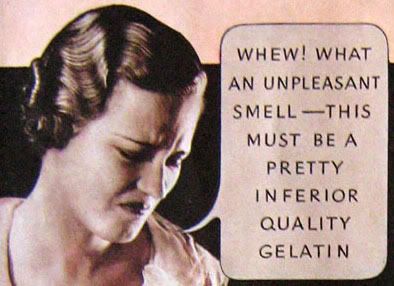 But back in the '30s, consumers weren't quite so lucky. It seems that some brands of gelatin gave off a rather, er, noxious smell. This ad for Royal Gelatin repeatedly describes their competitors' aroma as "gluey." The smell must have been quite pronounced and quite unpleasant for Royal to play up their fruity aromas as a key point of difference.
I wonder if they used the word "gluey" to tap into the public's misconception that horse's hooves were an ingredient in "inferior" brands of gelatin, since in the early 20th century, horse hooves and bones were often used as a source of glue.
Bon appetit?
Technorati Tags: vintage advertising, antique ad, Royal Gelatin, animal by-products
Product: Ice
Date: 1928
In our ultra-modern hyper-technological age, it's hard to imagine a time when refrigeration was a novelty. And yet it wasn't all that long ago, as this December 1928 ad for ice blocks attests.
Only 80 years ago, ice had copywriters gushing:
Ice was "the life of the party".
Ice clinked merrily in time to music.
Ice sparkled brightly.
Ice added flavour and appeal to food and drink.
Ice made out-of-season foods available all year round!
Ice was good health insurance, keeping food pure and untainted.
Ice was efficient and inexpensive.
You could even send away for a free booklet called Ice – the Life of the Party. Inside you would learn "modern ways of enjoying ice, including proper uses of ice in table settings."
Cool.
Technorati Tags: antique advertising, vintage advertisement, Baby New Year, ice, refrigeration
Product: 7-Up
Date: 1950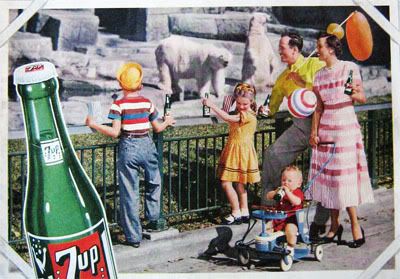 It's 1950. It's Middle America. Here we have Mom (in her high heels and pearls), Dad, Freddie, Kay, and little brother on a swell outing to the zoo. Look at the polar bears! Look at the balloons!
Now let's turn our attention to little brother, the cute baby in the stroller. How old is he? Eighteen months? Maybe two, tops? He's having a good time at the zoo, as well. What's that he's drinking? A bottle of nourishing mama's milk? A cup of apple juice?
No, sir! It's cheerful, clean-tasting 7-Up. Just because you're still in diapers doesn't mean you can't enjoy your very own glass bottle of fizzy sugar water. In fact, it's good for you. It's practically medicine. The ad says so.
Seven-Up is so pure — so good — so completely wholesome that even the very youngest can "fresh up" just as often as they want…and with as much as they want.
God bless America.
Technorati Tags: vintage advertising, 7-Up, soda ad, Middle America, post-war prosperity, nuclear family, polar bear