Product:Wizard's Purse
Date: ca 1900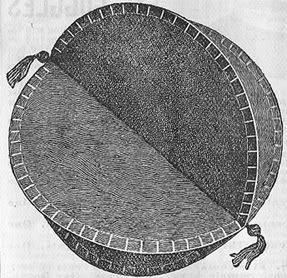 The description of this purse is an epic paragraph made entirely of awesome. I don't even know where to begin in telling you how awesome it is. I guess you should just read the whole thing for yourself.
The Wizard's Purse which has just been placed on the market is the most mysterious production of the ages, and is acknowledged by all the great professors of magic and legerdemain to be the greatest little wonder and mystery the world every produced. A marvel of Japanese skill that puzzles them all, makes ministers nearly profane, doctors neglect patients, lawyers forget cases, and affords everybody lots of sport, also furnishes never failing amusement for all, defies and baffles all, and deceives the sharpest eye. Can you open it? You may say you can, but can you? It is without a rival — delights and astonishes both old and young. For the seeker of curious and difficult puzzles, its mysterious method of manipulation invites the most careful examination and investigation. This purse can be filled with money, and, with perfect assurance of safety, you can offer anyone its contents (if not in the secret) providing they will open it without cutting, ripping, or injuring the purse in any manner. To those understanding the secret, it can be quickly and easily opened, while to the uninitiated it appears impossible. As the purse is tightly double-stitched all over by both hand and machine, nothing so tantalizing was ever offered to the public. Elegantly made of fine imported morocco leather in a variety of handsome colours, and beautifully trimmed with silk, a perfect beauty, sure to please all. Full directions accompanying each purse.
Technorati Tags: antique advertising, wizard's purse, novelty purse, ladies purse, 1900s fashion, copywriting
Product: Waterbury Watches
Date: 1893
*scratches head* You kinda have to wonder what the folks at Waterbury watches were thinking when they ran this 2″ x 2″ plain text ad with its small off-center headline in 1893. Though, honestly, the layout seems to be the least of their worries. I mean, who wrote this??
Maybe their target market was grumpy old men who found the acerbic retort of Charles Lamb, a British essayist and lifelong bachelor, to be the height of hilarity.
And maybe if you lived in the 19th century, you wouldn't have to read the ad three times before understanding what the hell it meant.
Yeah, that must be it. I'm just not their target market.
Technorati Tags: antique advertisement, Waterbury watches, Charles Lamb, old jokes, bad advertising
Product: h.i.s. Post-Grad Slacks
Date: 1969
Oh my my my. There's so much you could say about this ad, and yet it's almost better to let it speak for itself. Published in a Playboy magazine at the tail end of the '60s, it was intended to epitomize all that was cool.
Technorati Tags: vintage advertising, 1960s, fashion, black power
Product: DeLong Hook and Eye
Date: 1896
This ad reminds me of nothing so much as the Victorian equivalent of "SEX! ha ha. Now that we have your attention…"
Why else use those two strange words called out in large letters: approximately and hump. Does Approximately hump make any sense as a sentence? No. Does it speak of hook and eyes? No, not really. Does the sentence starting with approximately even make sense?
Approximately the cut below represents the DeLong Hooks and Eyes.
Nope, no sense at all.
But you've got hand it to the designer — it certainly is an attention grabber.
And I haven't even mentioned the clean, uncrowded layout with lots of white space (this during a time when it was common practice to cram your ads with as much copy as possible) and the simple, yet elegant diagram demonstrating the Dramatic Difference of the product.
From the text, we can surmise that randomly popping hooks were quite a problem for well-dressed ladies of the day. Oh my.

Technorati Tags: antique advertisement, vintage advertising, DeLong hook and eye, dress hooks, Victorian fashion