Product: Bell Telephone long distance
Date: ca 1952
Think your cell phone rates are high? Or that long distance costs too much? Then thank your lucky stars you don't live in 1952. Back then, Bell Telephone was trying to convince people to make long distance calls by touting these "low" per-minute rates:
| | |
| --- | --- |
| Pittsburgh to Cleveland | $.45 |
| Boston to Philadelphia | $.70 |
| Atlanta to Cincinnati | $.85 |
| Dallas to Denver | $1.10 |
| San Marino to New York | $2.00 |
| | |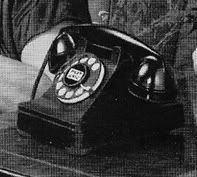 And these were the off-peak rates for calls made after 6pm or on Sundays! To put those rates in perspective, I ran them through an inflation calculator to see what you'd pay for the same calls in 2011 dollars. Here are the staggering results:
| | |
| --- | --- |
| Pittsburgh to Cleveland | $3.63 |
| Boston to Philadelphia | $5.73 |
| Atlanta to Cincinnati | $6.95 |
| Dallas to Denver | $9.00 |
| San Marino to New York | $16.36 |
| | |
Can you imagine paying $16 per minute? I don't think I'd be making too many calls to the grandkids at those rates.
Technorati Tags: Bell Telephone, vintage advertising, ads from the 1950s, grandparents, long distance rates
Product: Gayla Bobby Pins
Date: 1950
Ever wanted to look like you were headed to a fancy evening soiree when, in fact, all you were doing was playing tennis? Now you can. All it takes is…wait for it…bobby pins!
Yes, magical bobby pins can transform you from sweaty athlete to coiffed princess in seconds. Well, not just any bobby pins, mind you. Only Gayla bobby pins are the ones that will make you feel like you're wearing a ball gown and diamonds when driving that scorcher down the line. You'll have a gay-la old time.
Technorati Tags: antique advertisement, vintage advertising, funny ads, bobby pins
Product: 7-Up
Date: 1950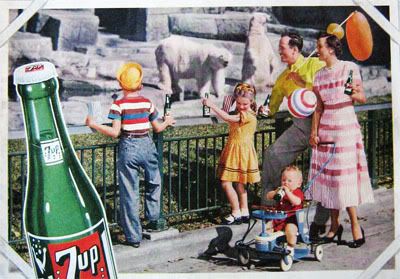 It's 1950. It's Middle America. Here we have Mom (in her high heels and pearls), Dad, Freddie, Kay, and little brother on a swell outing to the zoo. Look at the polar bears! Look at the balloons!
Now let's turn our attention to little brother, the cute baby in the stroller. How old is he? Eighteen months? Maybe two, tops? He's having a good time at the zoo, as well. What's that he's drinking? A bottle of nourishing mama's milk? A cup of apple juice?
No, sir! It's cheerful, clean-tasting 7-Up. Just because you're still in diapers doesn't mean you can't enjoy your very own glass bottle of fizzy sugar water. In fact, it's good for you. It's practically medicine. The ad says so.
Seven-Up is so pure — so good — so completely wholesome that even the very youngest can "fresh up" just as often as they want…and with as much as they want.
God bless America.
Technorati Tags: vintage advertising, 7-Up, soda ad, Middle America, post-war prosperity, nuclear family, polar bear