Product: Ohio-Tuec vacuum cleaner
Date: 1920
Don't you just hate it when your man leaves his cigarette butts on the good carpet?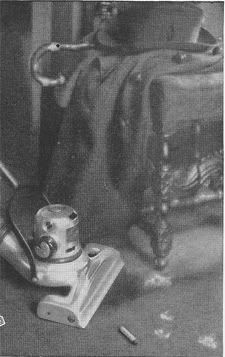 Technorati Tags: vintage advertising, 1920 household appliances, vintage vacuum cleaner, Ohio-Tuec, cigarettes, smoking culture
Product: Oh Henry! & Oh Henry! Recipe Book
Date: 1926
"Why, that's candy!"
Yes. Yes indeed. But that's no reason you can't put it in a salad with fruit. And mayonnaise. And lettuce. Oh yes.
Miss Daisy P. Rudd of Bennington, Vermont, says that it makes one of the most charming salads she has ever served. Oh yes.
But wait! There are actually thousands of recipes you can make with Oh Henry. Luckily for homemakers everywhere, the Oh Henry people whittled it down to the 60 best ones and put them in a recipe book: Sixty Ways to Serve Famous Candy.
So there you have it. Fruit salad thingamabob with Oh Henry. There's probably going to be a run on the stores. You better "phone your grocer, drug or candy store for 6 or 8 bars of Oh Henry … now!"
Technorati Tags: Oh Henry!, candy bar, chocolate bar, vintage advertising, recipe booklet
Product: Financial planning
Date: 1927
Most of us expect — barring unfortunate and unforeseen circumstance — to live to a ripe old age. To at least 80, maybe 90. Heck, some financial planners caution us to plan on living 100 years or more.
We know that our retirement years will probably start around 65. And we all know the drill about saving now to sustain ourselves financially during those years.
But saving for retirement hasn't always been a given.
This ad from 1927 plainly shows that many people didn't plan for retirement because they didn't think they'd be alive past 65.
Yet things were beginning to change, and the financial services companies were urging people to consider the statistics:
Sixty-three per cent of the 40-year-old men of today will be living at age 65.
To provide for yourself if you live to old age is as necessary as to provide an estate for your family. (emphasis from the ad)
If you lived to old age. A 63% survival rate as surprising. Old age at 65.
What a tremendous shift in cultural thinking from then to now. Improved nutrition, access to medicine, and a myriad of other blessings, big and small, have extended our life expectancies by more than a third in less than 100 years. Mind-boggling.
Technorati Tags: antique advertisement, vintage advertising, retirement, life expectancy
Product: Ice
Date: 1928
In our ultra-modern hyper-technological age, it's hard to imagine a time when refrigeration was a novelty. And yet it wasn't all that long ago, as this December 1928 ad for ice blocks attests.
Only 80 years ago, ice had copywriters gushing:
Ice was "the life of the party".
Ice clinked merrily in time to music.
Ice sparkled brightly.
Ice added flavour and appeal to food and drink.
Ice made out-of-season foods available all year round!
Ice was good health insurance, keeping food pure and untainted.
Ice was efficient and inexpensive.
You could even send away for a free booklet called Ice – the Life of the Party. Inside you would learn "modern ways of enjoying ice, including proper uses of ice in table settings."
Cool.
Technorati Tags: antique advertising, vintage advertisement, Baby New Year, ice, refrigeration