Product: None Such Mince Meat
Date: 1918
During World War I, None Such Mince Meat advertised its mincemeat pie filling by encouraging housewives to serve their country by baking "war pies" — pies baked without the top crust to save on flour. Such exhortations to be patriotic, make sacrifices, and save supplies were common in that era, as well as during World War II.
Can you imagine any company–or even the government–making the same kind of request today? People would be up in arms. Pardon the pun.
Post-script: I'm currently reading Jeff Rubin's book, Why Your World Is About to Get a Whole Lot Smaller, about peak oil and what it will mean to our gas guzzling culture. The price of energy is going to go up, along with the cost of food, clothing and other essentials — all of which rely on oil for production, storage and transportation. It occurred to me that we're already seeing the kind of conservation requests that None Such was putting forth in 1918, just not in support of a war effort. Instead, the requests today beseech us to do our part for the environment.
As prices for just about everything rise in the coming years, we'll see more and more information about how to save and stretch what we use. Who knows, maybe War Pie will make a comeback as Green Pie. What do you think?
Technorati Tags: vintage advertising, WWI, World War One, war-time advertising, None Such Mince Meat, mincemeat pie, war pie, rationing
Product: various
Date: 1913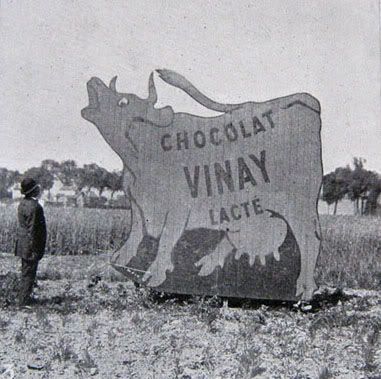 Billboards cluttering up the highway. Stories-tall advertising destroying the beauty of the countryside. It's a modern problem, born of the car culture that rose to prominence in 1950s America.
That's all true, at least in North America. But billboards — and vocal opposition to their intrusion on a city or country view — have been around much longer than that. A photo essay page from a 1913 London Illustrated News shows half a dozen ad boards from around France.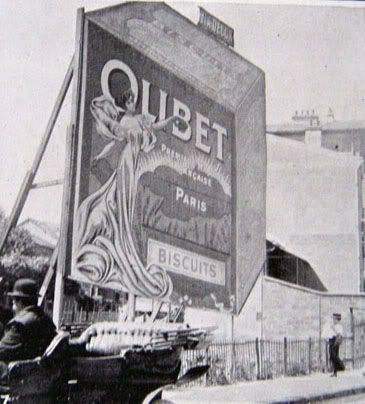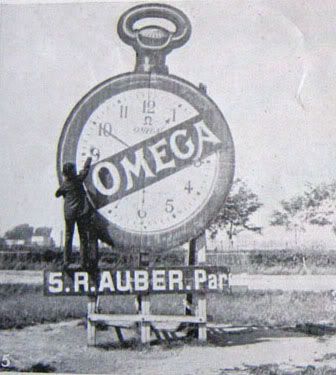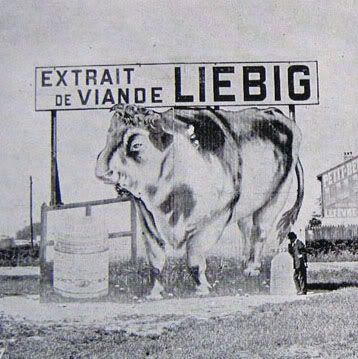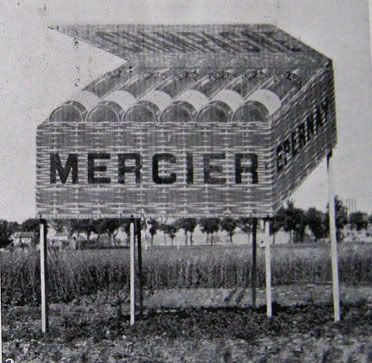 The central image of the photo essay is a cartoonist's rendering of the famous Angelus by Millet, as the cartoonist envisioned it would have to be painted in the early 20th century.
The text with the photo essay described a new tax on advertisers that, it was hoped, would decrease the number of such "landscape advertisements."
"To the great joy of lovers of beautiful landscape, the French Government have taken a definite step in an attempt to lessen the number of advertisement-hoardings set up in the open in picturesque places, if not to abolish them, by placing upon the unsightly structures a tax…"
Technorati Tags: antique advertisements, advertising billboards, automobile history, French advertising
Product:The Lad's Car
Date: 1912
One look at this ad from 1912 and you've got to think that maybe the Lad's Car had a little something to do with implementing a minimum driving age.
The Lad's Car was a fully functioning, five-horsepower, gasoline-powered miniature car that could reach speeds of 20 miles per hour. To put that in perspective, the speed limit in 1912 on most streets in America would have been about 10 miles per hour.
The Lad's Car was touted as a pleasure vehicle for young boys, or working transport for kids who wanted to make some extra cash as a courier or messenger. OK, a neat idea for the time.
But imagine a bunch of 10- and 12-year-olds careening down the streets in tiny cars, mixed in with all the full-size vehicles, and you get a sense of the chaos these might have created.
The part of this ad that I truly enjoy, though, is the illustration. There's a young boy, looking oh so cool in his "wheels" (note the jaunty cap and the one hand draped casually over the steering wheel), showing off to a pretty little girl in a dress. Even in 1912, with the auto industry as we know it barely 10 years old, manufacturers were marketing cars as a way for boys to attract the attention of the opposite sex.
Technorati Tags: antique advertising, vintage ad, automobile history, children's car, miniature car
Product: Foot's Chair-Couch
Date: 1911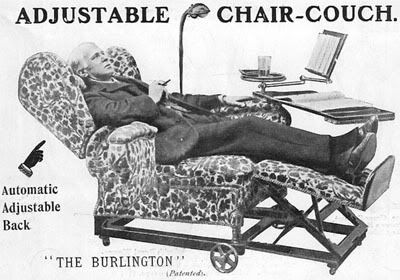 La-Z-Boy ain't got nothing on this bad boy. In fact, years before La-Z-Boy came on the scene, there was already a deluxe recliner called the Burlington. Check it out:
The back goes up and down at the press of a button
The arms swing out for make getting in and out easy
The leg rest goes up and down so you can lounge at whatever angle you please. Don't want a foot rest? It slides away.
It comes with four attachments: a table, a tray to hold your book upright, a side tray for your drinkie-drinks, and a light. All adjustable, all removable.
As if all that weren't enough, the upholstery is also "exceptionally soft and deep" with spring elastic edges. This thing's so comfortable, it's not even sure if it's a chair or a couch — it's a chair-couch.
Yet where is this company today? A Google search on "Foot's chair-couch" and several variants yields nothing, not even historical archives or collector groups. The La-Z-Boy people claim to have created "the first chair of its kind" when they released their upholstered recliner in 1929. I think not. But what's that they say about the winners writing history? Foot's is now just a Footnote.
Technorati Tags: antique advertising, reclining chair, La-Z-Boy, Foot's chair-couch, antique furniture