Product:Wizard's Purse
Date: ca 1900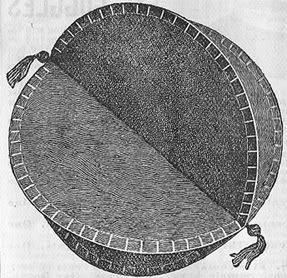 The description of this purse is an epic paragraph made entirely of awesome. I don't even know where to begin in telling you how awesome it is. I guess you should just read the whole thing for yourself.
The Wizard's Purse which has just been placed on the market is the most mysterious production of the ages, and is acknowledged by all the great professors of magic and legerdemain to be the greatest little wonder and mystery the world every produced. A marvel of Japanese skill that puzzles them all, makes ministers nearly profane, doctors neglect patients, lawyers forget cases, and affords everybody lots of sport, also furnishes never failing amusement for all, defies and baffles all, and deceives the sharpest eye. Can you open it? You may say you can, but can you? It is without a rival — delights and astonishes both old and young. For the seeker of curious and difficult puzzles, its mysterious method of manipulation invites the most careful examination and investigation. This purse can be filled with money, and, with perfect assurance of safety, you can offer anyone its contents (if not in the secret) providing they will open it without cutting, ripping, or injuring the purse in any manner. To those understanding the secret, it can be quickly and easily opened, while to the uninitiated it appears impossible. As the purse is tightly double-stitched all over by both hand and machine, nothing so tantalizing was ever offered to the public. Elegantly made of fine imported morocco leather in a variety of handsome colours, and beautifully trimmed with silk, a perfect beauty, sure to please all. Full directions accompanying each purse.
Technorati Tags: antique advertising, wizard's purse, novelty purse, ladies purse, 1900s fashion, copywriting
Product: Niagara Squirter
Date: ca 1900
Bedbugs got you down? No problem. The Niagara Squirter is a "great thing to kill bedbugs with."
Plus it's nickel plated.
Nice.
Technorati Tags: bedbugs, Niagara Squirter, water squirter, antique catalog, antique advertising, J. Lynn & Co.

Product: New York Real Estate
Date: 1906
In the category of "Where's a Good Time Machine When You Need One" comes this ad from 1906 selling land in New York City for $190.
Actually, the price was just $161 if you paid cash. The $190 was on the payment plan of $5 per month after a $10 deposit. Sounds like a sweet deal. And it was (don't you know it!), if you had the money. But in 1906, the salary of a working man was somewhere in the range of $200 to $400 — so these lots cost about a year's income for an Average Joe.
What I love about this ad is its unrelenting sales pitch, and the sense of scarcity, urgency, and opportunity it creates.
These are positively the last cheap lots in New York City…Lots in the Bronx, farther away from the City Hall than these we now offer in Richmond at $190, are to-day selling for $2000.
and
The Borough of Richmond is to-day where Brooklyn was three years ago and those who invest with us now will get all the advance. It is the only undeveloped part of New York City, and it is in the direct line of growth…there is no other cheap land in Greater New York.
And my favorite piece of all:
Don't wait to investigate now or you'll be too late. Investigate later. These 100 lots will sell fast. Pin a $10 bill to the coupon at the bottom of this page and mail it to us at once–today if possible. We will save a lot for you–the best one unsold…
No need to do your homework, folks. Don't think about it, just send your money. We'll save YOU (just you) the very best.
You can practically hear the 100-year-old sound of coupons being ripped out of magazines everywhere.

Technorati Tags: antique advertising, vintage advertisement, ad copy, copywriting, New York City, Richmond, real estate
Product: Universal Nebulizer
Date: 1907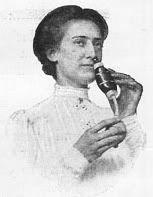 The most disturbing thing about this ad is not the close-up of the vaguely obscene Nebulizer, the intimately detailed description of how to use it, or even the placid expression of the woman with one shoved up her nose.
No, the most disturbing thing about this ad is the offer to use the Nebulizer on trial for 10 days and then SEND IT BACK if you don't like it.
Please tell me they didn't re-sell the ones that were sent back. Or that they sterilized them. Or something. Please?
Technorati Tags: antique advertisement, vintage advertising, Universal Nebulizer, catarrh